Diversity at Heber
Since the Black Lives Matter protests began, staff have been engaging in lively debates surrounding the issues raised and have taken a considered approach before forming a teacher work group that can champion racial equality in our community. We would now like to share with you some of the initiatives we are planning in order to achieve that goal. As always, we openly welcome your feedback and support in striving towards a world of racial equality as we aim to drive towards racial equality for black people alongside doing better by all of our families, whatever our race.
Dear Parents and Carers,
We are writing to update you on our school's response to recent events in relation to the Black Lives Matter movement that has come to the forefront in the media in recent weeks. At Heber, as we hope you know, we feel that the diversity of our children and families gives strength to our school community. Nurturing all our children's awareness of such diversity in our school, in London and throughout Great Britain has long been a key aim of the Heber curriculum, alongside explicit teaching around tolerance, diversity and anti-racism through PSHE lessons and assemblies. We also recognise that there is much more that can be done in our strive to eliminate racial discrimination, and are excited to be able to make impactful changes to our school to that effect. As a school we  have a responsibility to drive towards racial equality for black people alongside doing better by all of our families, whatever our race.
As a staff, The Black Lives Matter movement has made us ask questions about our school. But as part of a school community, staff, parents, pupils, governors and all those who engage with the school have a responsibility not only to our Black families, but also to other Asian and minority ethnic groups to be better at including everyone in every aspect of what we do. This extends beyond just our curriculum offer. It is about interactions with each other. It is about our whole community.
As a result we would like to share with you an update regarding our recent review of the curriculum that took place last academic year, as well as current and future initiatives, the wheels of which are already in motion through a staff workgroup tasked with making Heber a more inclusive place for absolutely everyone involved with the school.
Curriculum Review 2019
At the end of the 2018-19 academic year, we reviewed our wider curriculum in order to make it more relevant to our children. Part of this meant making changes to curriculum content that better reflected our demographic. For example history and geography topics that include places, countries and people that reflected Heber children. This meant that our curriculum is not just a window to the world, but also a mirror in which all of our children have the opportunity to see themselves through what we study.
We also ran our curriculum through a 'social justice' lens, ensuring that each topic taught addressed an issue in relation to social justice, whether that be linked to race, gender, or any form of inequality. For example when studying Greeks, children would be asked to evaluate whether they would rather be a woman growing up in Athens (where women had a more 'traditional' role) or in Sparta (where women were hunters).
Sadly not all of the changes we made to the curriculum had the chance to be implemented due to the lockdown. Despite this we have turned our attention to a continued review of the content of the curriculum to ensure that Black, Asian and minority ethic groups are represented in all subjects. In addition to this, we are further discussing how we can teach our children about black history which is relevant to them as young people living in London.
Our workgroup has identified 4 strands we feel that we can make positive impactful change with regards to anti-racism at Heber: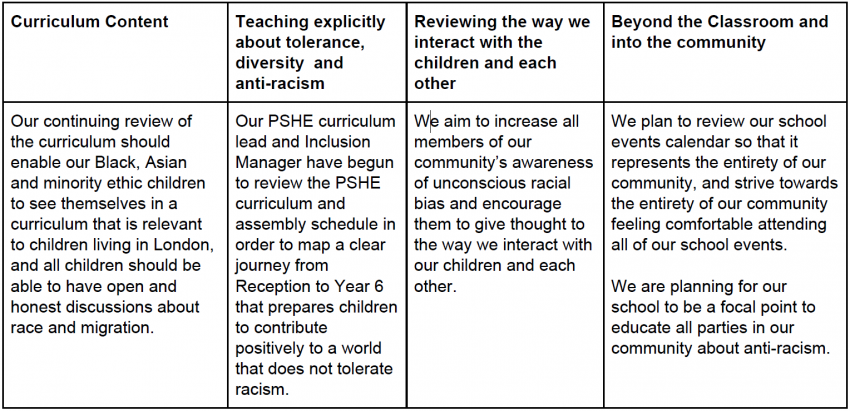 So that it is ready for the 2020-21 academic year, this term we are prioritising the first two strands above related to adapting our curriculum. I hope this goes some way to communicating where we are currently at as a school, and the direction in which we wish to drive towards in order to make impactful change in relation to anti-racism. As always, we welcome your feedback and support in driving towards a world where racial discrimination can become a thing of the past.
Best Regards,
Miss Rosenberg (Head Teacher) and Mr Elliott (Assistant Head Teacher and Curriculum Lead)
Diverse Curriculum Content

In line with our goal to embed Black, Asian and Minority Ethic content into our curriculum, subject leads have mapped out where ethnically diverse history, places, people and events appear in our curriculum for 2020-21. This will ensure regular coverage of diverse content relevant to children growing up in London. This allows each and every one of our pupils to see themselves in our curriculum. The Diversity Curriculum map can be found here.
In addition to the above, we have recently reviewed the texts we use to teach English. Follow the links below to see the texts for each year group that feature ethnically diverse authors, protagonists or culture:
Teaching Children about Racism

It is our aim that all children have regular opportunities engage in open conversations about race, racism, and racial inequality during their time at Heber. In addition to this we aim to equip all children with the tools necessary to contribute successfully to a world where racism can be a thing of the past. Through our PSHE curriculum, children learn about tolerance, diversity, respect and prejudice. Furthermore, we directly address racism and unconscious racial bias through carefully pitched lessons designed to increase children's awareness of their role in driving towards equality for all. As a result of these aims, our PSHE lead has compiled an Anti-Racism Journey for implementation in the 2020-21 academic year, which maps children's learning about anti-racism from years 1 to 6.
To support your conversations around race at home, A Parents Guide to Black Lives Matter can be found here.
Our children have already begun to actively engage with issues of racial equality raised by the Black Lives Matter. campaign Images of some of their learning can be found around this page.
Heber School's support of the Black Lives Matter campaign is not an endorsement of any organisation or movement with a political agenda.